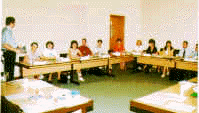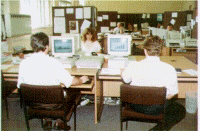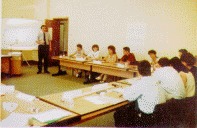 CIMP is acting in the Romanian business environment by providing consultancy and training services to help companies in Romania to build competitive organisations able to operate in the national and international markets.
CIMP is registered in the Brussels-PHARE central data base under position ROM-20584.
CIMP is founder member of Romanian National Training Providers Association (ANTRA) and member in the Board of Administration.
CIMP is founder member of the Romanian Association of Human Resources Specialists.
| | |
| --- | --- |
| | The "Centre for the Improvement of Management Performance" is a non-governmental Romanian management consultancy and training organisation acting both on the internal and external market. |
| | |
| --- | --- |
| | CIMP was set up in Bucharest in 1992 by the British Government through the "Know-How" Fund. The other founding members are: University of Hertfordshire-UK, Polytechnic University Bucharest, Ministry of Trade and Industry and Romanian Development Agency. The actual President of the Administration Board is the Romanian Ministery of Industry and Resources representative. |
| | |
| --- | --- |
| | CIMP'S MISSION is to support its clients in their efforts to continuously improve performance. Working along with them in implementing state of the art management methods will enable CIMP to become the best Romanian management consulting organisation with international recognition, ensuring both clients and own staff satisfaction. |
---
| | |
| --- | --- |
| | CIMP is staffed by a group of 8 experienced romanian consultants covering a wide range of managerial and technical expertise. They are all Romanian graduates who have worked an important part of their career in companies where they held senior management positions. Therefore our consultants have a comprehensive understanding of the factors and constraints affecting the companies' performance in the Romanian economic environment. |
| | |
| --- | --- |
| | CIMP consultants have been trained at the University of Hertfordshire (UK), completing a "Master of Science" degree in Organizational Development. During the programme they acquired extensive skills and knowledge particularly in Human Resource Management and Marketing as well as in strategic and financial field. They studied management best-practice in companies with international reputation: Nissan, Shell, Iveco, Unilever, British Rail, British Telecom and many others. |
| | |
| --- | --- |
| | CIMP has good relationships and have worked extensively in partnerships with foreign consultancy companies well known in Romania and also with individuals and Romanian companies. These connections provides flexibility and allows CIMP to participate in the most complex and varied management consultancy and training projects. |
| | |
| --- | --- |
| | CIMP is situated in the central area of Bucharest, in a building whose facilities have been refurbished to international standards. The centre is provided with large rooms for conference and seminars, syndicate rooms, library, international communication equipment, multimedia, video and computer equipment required in order to provide top quality consultancy and training services. |
---
Customer orientation
No efforts are spared to fully understand customers' problems, get their full satisfaction and enjoy respect and loyalty.
Commitment to quality and professionalism
Our services are delivered by excellently trained people having a comprehensive understanding of the Romanian context and of the best Western practices.
Recognition of the value of our people
CIMP understands the need to invest in its own human resources and highly motivate them through training and development, respect, recognition and reward.
Participative approach
CIMP's approach aims not only to provide solutions but also to assist during implementation and to help clients to develop their own human resources so that they will be able to act as change agents and internal consultants.
Flexible approach
The operation of our organisation relies on flexible teams and continuous improvement of our methods.
---
In this page: About us ... Who we are Resources Our values Partners